Year-Round Leadership Team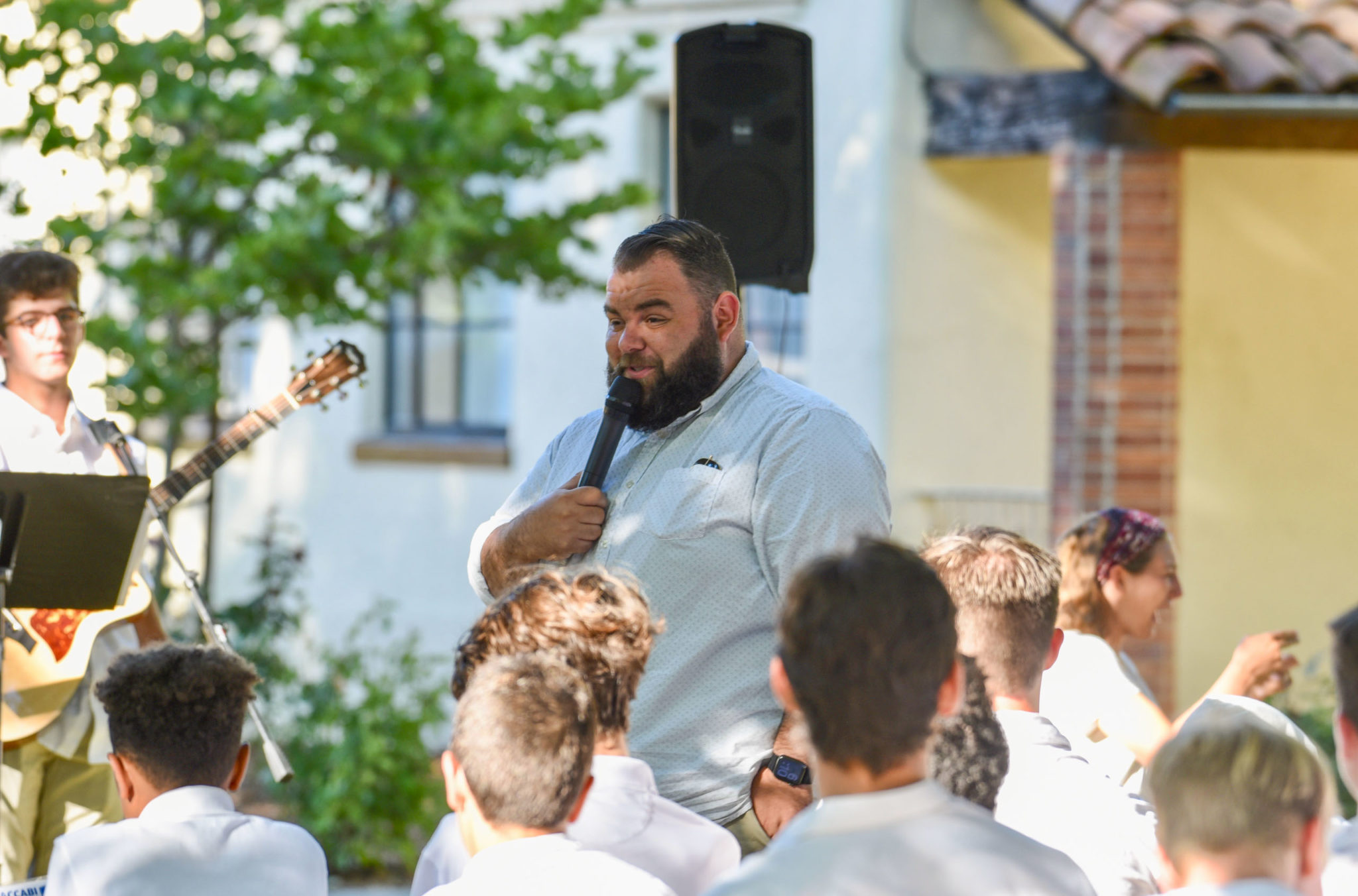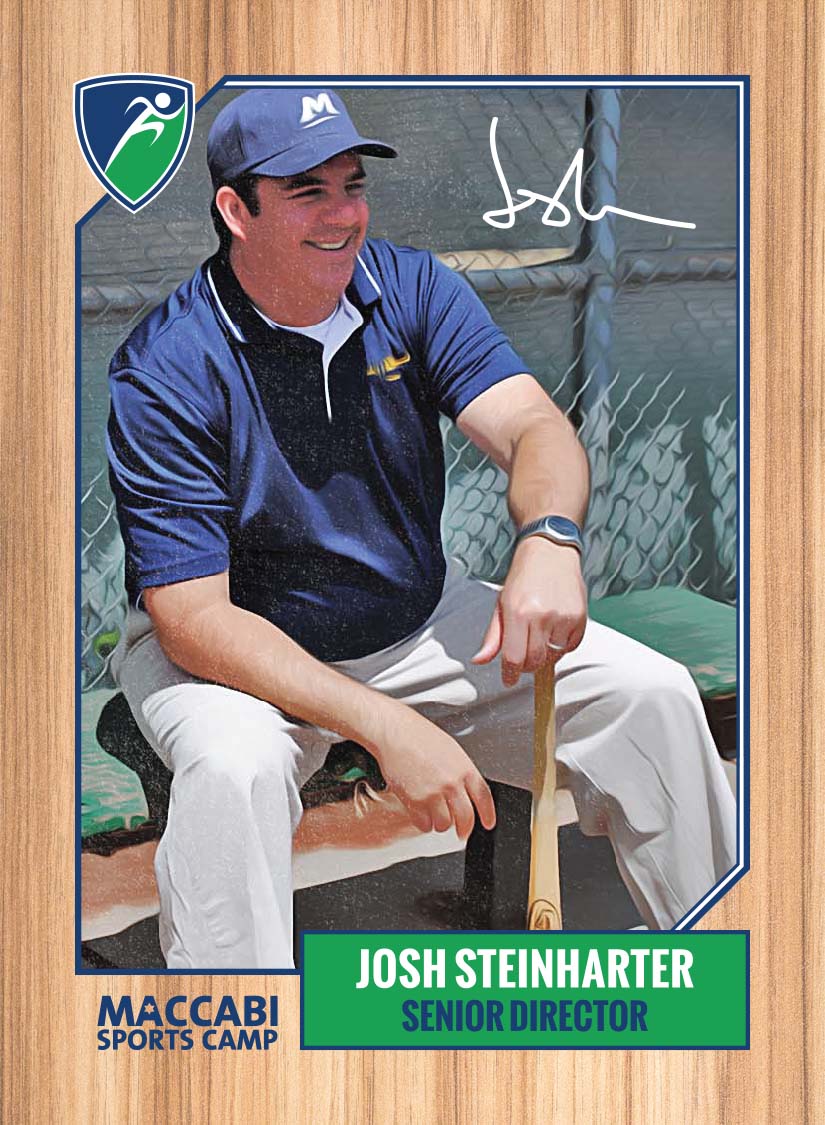 Josh Steinharter – Senior Director
Born and raised in Dayton, Ohio, Josh found comfort and connection through competitive sports and involvement in the Jewish community. He spent many summers at the URJ Goldman Union Camp Institute.
Josh's dream was always to play shortstop for the New York Yankees. Coming up a bit short when his baseball career ended in high school, Josh pursued other ventures, ultimately leading to a life in San Francisco. He studied Motion Pictures and Political Science at The University of Miami, FL, taking a year abroad to study at Hebrew University in Jerusalem.
Starting in 2005, Josh was the Athletic Program Manager for Youth & Coach Development at the Jewish Community Center of San Francisco, serving over 1,500 children annually through teams, classes, camps, and select-level sports. He also served as Delegation Head for Team San Francisco at the JCC Maccabi Games®. As co-creator of the JCCSF Fellowship in Sports Leadership, Josh helped develop and lead the teen program that taught leadership through the lens of coaching youth sports.
In 2013, Josh founded Maccabi Sports Camp, the first Jewish overnight sports camp on the West Coast.
Josh is a proud member of the JCC Association Merrin Fellowship for Teen Professionals and a member of Wexner Field Fellowship Class 2. Josh and Camp were also participants in the Upstart Accelerator Cohort 9, a selective program for innovative new Jewish non-profit organizations. In 2015, Josh received the Golden Bagel Award, a distinguished honor given by the Jewish Sports Hall of Fame of Northern California, bestowed upon professionals and lay leaders making a significant contribution to the Jewish and sports community.
San Francisco has been Josh's home since 2005, where he lives with his wife Meghan, and their sons Benjamin and Jackson.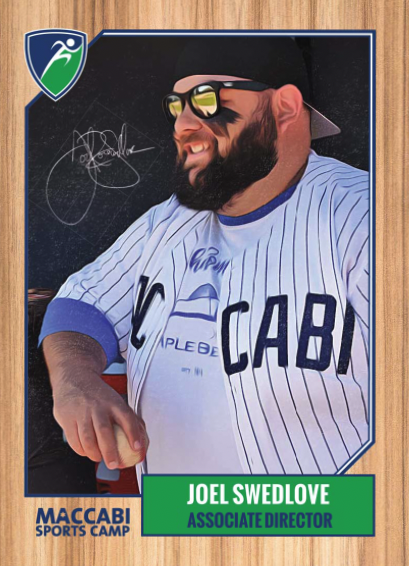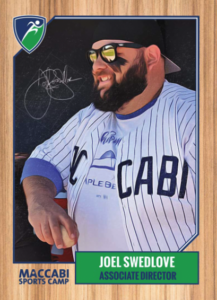 Joel Swedlove – Associate Director
Joel is a product of the Jewish Summer Camp. His parents met at UAHC Camp Swig and he believes deeply in the importance of summer camp to the American Jewish community.
Joel grew up playing baseball, roller hockey, and soccer. He has coached Basketball for both boys and girls at the middle and high school levels with multiple appearances in the state playoffs for both California and Nevada.
Joel Swedlove served as the Director of Youth Programs and Informal Education for Temple Beth-El (San Antonio, TX) from June 2016 to 2020 before becoming the syngaogue's first Director of Strategic Engagement. Prior to his time in Texas he worked at the Adelson Educational Campus in Las Vegas, NV as a Jewish Music Teacher, Athletics Assistant, and Coach. Joel has gained significant experience in informal education having spent his summers as a song leader, unit head, and program director for Camps Alonim, Hess Kramer, and JCC Maccabi Sports Camp, respectively.
Joel grew up in the Reform movement from his early summers at Camp Swig and Newman to serving as Religious and Cultural VP on NFTY Southern California's Regional Board. Upon graduating High School he served as youth group advisor and director for congregations throughout Southern California and Las Vegas. Joel has an M.S. in Organizational Leadership & Innovation from Hebrew Union College-Jewish Institute of Religion and received his B.S. in Communications from the University of Phoenix. He has a deep love of movies, comic books, and sports. Joel is the proud father of two boys, Ethan and Alexander.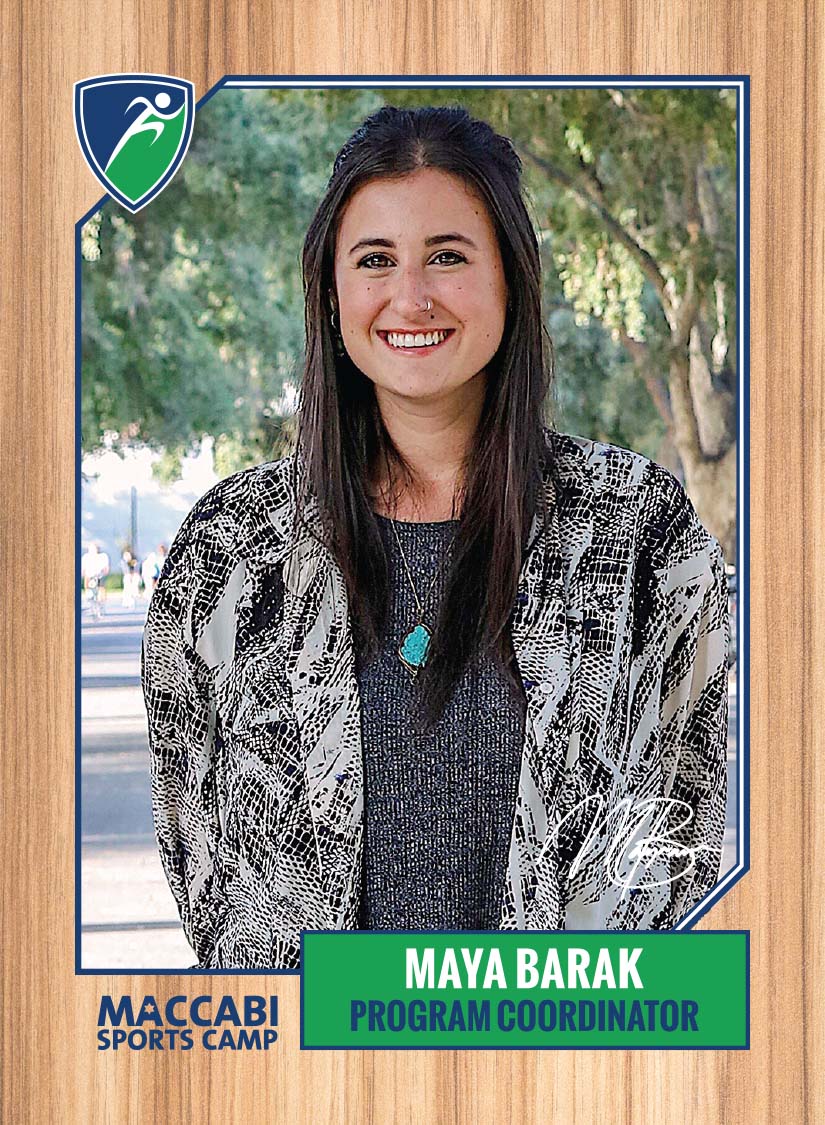 Maya Barak – Program Coordinator
Originally from Israel, Maya was raised on a kibbutz where her family still resides. Her nuclear family moved to the Bay Area when she was in elementary school. Jewish community and BBYO in high school helped her find footing in a brand new culture and language.
After high school, Maya spent a gap year in Israel, followed by pursuing a B.A. in International Relations from UC Davis.
In college, Maya was a volunteer for Camp Kesem, a student-run nonprofit organization that puts on a free summer camp for children whose parents have been affected by cancer. During her time at Camp Kesem Maya was a counselor as well as a Teen Leadership Program (TLP) Coordinator, gaining the relevant experience and knowledge which prepared her to join the Maccabi Sports Camp staff in 2021 as the Teen Program Manager. Upon completion of her first summer at MSC, Maya joined our year-round staff as the Program Coordinator.