The foundation for Maccabi Sports Camp experience is Core Sports, a substantial segment of the day devoted to individual skill development, enhanced sports IQ, and personal growth in self-confidence.
Our specialized sports program enables young athletes to develop their skills as individual players and as teammates within a fun and supportive summer camp environment. We also believe that game play is an important part of learning a sport so each day campers get the opportunity to scrimmage or experience another aspect of game play scenario.
Campers select a Core Sport at the time of registration and focus on that sport for the entire session. Campers who sign up for multiple sessions can choose to remain in the same Core Sport or choose a different one. And while we believe that athletes should participate in a variety of sports, especially at a young age, for several reasons we require campers to focus on one sport while at camp. To achieve true skill development over the course of a session, it is important that a camper spends all of their time in one sport. Additionally, the community that is built amongst each core sport's participants, along with the relationships and connections developed with coaches, are critical to the overall Camp experience.
We offer the following Core Sports
All of our Core Sports are led by Head Coaches who bring a passion for sports and years of experience playing and coaching at a high level to the camp community. Read more about our staff.
In addition to Core Sports, campers also have electives, cabin time, and unforgettable Evening Programs. Click here to read more about camp life and find out what makes our camp unique.
Who is right for Maccabi Sports Camp?
"Coachability" is really the key to success at Maccabi Sports Camp. An interest in being coached and a desire for specific, personal direction are far more important than a campers current skill level when it comes to determining if your child is a good fit for our camp. Campers from all levels of skill and experience, ranging from beginners to club level, have been successful in our program, coming back year after year.
We place great emphasis on effort, fully applying oneself, overcoming adversity, playing and practicing with enthusiasm, and making your teammates better. Jumping and making contact to get a rebound are as valuable as actually getting the rebound. Taking four shots on goal or running hard through the bag are as important to an athlete's progress as scoring or getting a hit. If they love to play sports and are eager to learn—this is their camp.
While part of our focus is on fundamentals and game strategy, campers also build confidence progressing toward individual goals. And because everyone arrives with different sport experience (recreational leagues, school teams, travel clubs) and advances at their own pace, we strategically group players to ensure they get the most from camp. What they learn in competition, in practice, and from our coaches in our supportive environment helps them develop character and become more valuable team members.
Core Sports
All of our Core Sports programs devote time during each sports period to properly warm-up, cool-down, and stretch. They also work on improving strength, conditioning, speed, and agility at age-appropriate levels. Campers learn a combination of technical skills while furthering their understanding of the tactical side of their sport—the strategy and teamwork that is integral to improvement in sports. Lastly, the success of young athletes depends not just on training but also on their health—eating nutritious food and staying hydrated, which are part of our core value of Shmirat HaGuf, guarding the body.
Baseball
Campers focusing on baseball enjoy authentic game play where they can put knowledge into practice in real game situations. They advance their understanding of how each position is integral to defensive strategy and how each spot in the lineup is vital to success. From pitching techniques to defensive situations and hitting approach, players dive deep into the physical, mental, and philosophical elements of America's pastime.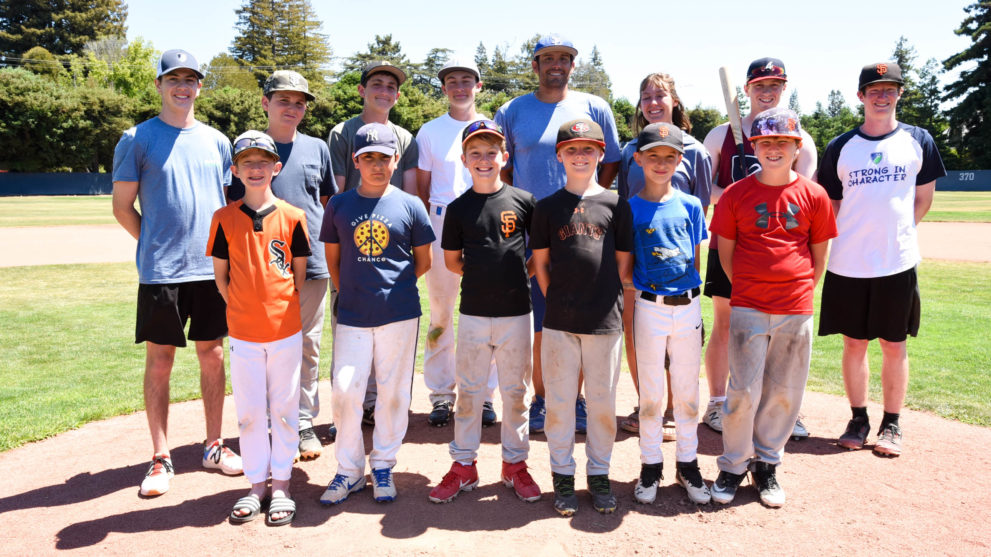 Core baseball training includes:
Outfield and infield fundamentals
Base running and stealing
How to protect and strengthen your arm
Better glove techniques
Pitch techniques
Small and long-ball hitting
Teamwork and decision-making
Speed, strength, power, and quickness
Basketball
Campers will improve fundamental skills of ball handling, shooting, passing, and footwork. When a camper selects basketball as a core sport, we immerse them in a basketball-rich environment. They learn each position and how it functions within offensive schemes from half-court to fast-break, and then work on how to transition into zone or man-on-man defense. Teamwork and "talking to each other" are also integral parts of the game and are a focus of our program. Basketball takes place in Haynes-Prim Pavillion, a collegiate gym at Menlo College.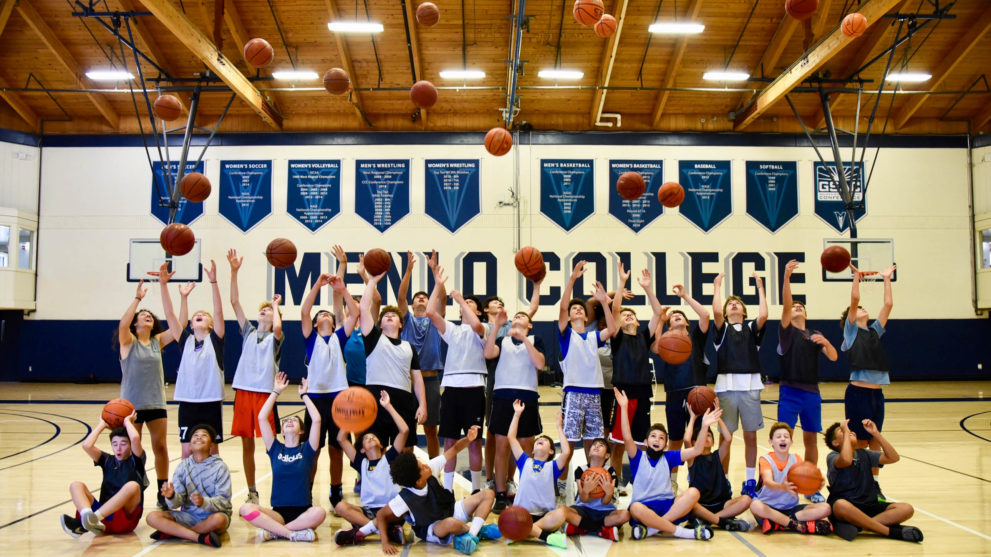 Core basketball training includes:
Proper shooting technique
Ball handling
Passing
Offensive and defensive footwork
Defensive stance and positioning
Speed, endurance, and jumping
Teamwork and "talking to each other"
Creating space and playing off the ball
Offense plays and strategy
Defense rotations
Soccer
Campers who choose soccer as their core sport experience the ins and outs of all things soccer. They grow to understand how each position functions within an offense as score and game situations change. On defense, they practice using angles, the field, offside, and the sidelines to defend. On offense, they explore field formations, attacks on goal, and possession tactics. Work on ball handling skills with your non-dominant foot, learn about spacing, playing off the ball, and how your role at each position shifts as game situations change. Soccer is a game of constant transitions; learn the offensive and defensive strategies and techniques of "the beautiful game."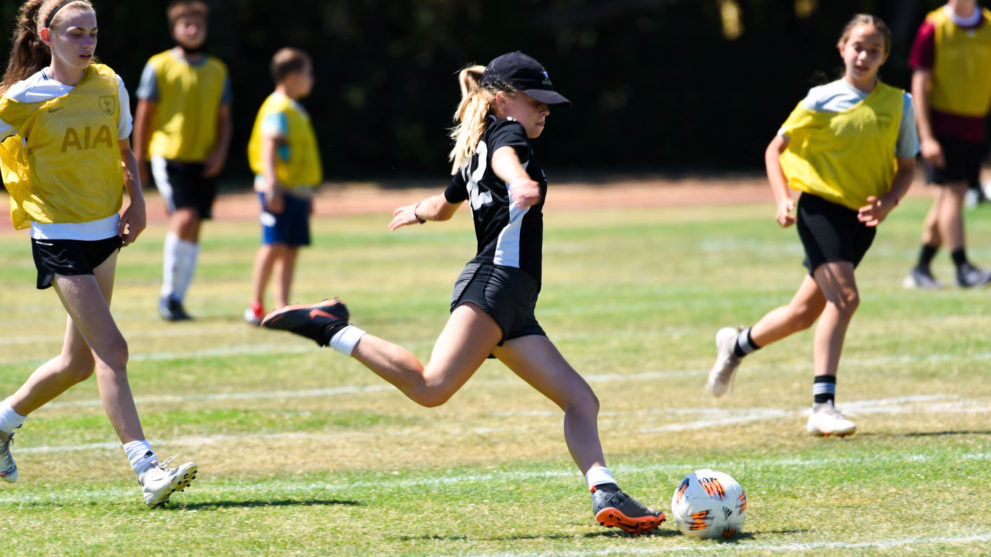 Core soccer training includes:
Dribbling
Passing and trapping using head, chest, and thighs
Shooting
How and when to use tackling
Throw-ins
Goal keeping
Corner, direct, and indirect kicks
Spacing and playing off the ball
Speed, endurance, and agility
Team defense
Offense plays and tactics
Tennis
At Maccabi Sports Camp, when tennis is a camper's core sport they engage in all aspects of tennis—physical, intellectual, and emotional. As players hone skills appropriate to their abilities under the guidance of top professional instructors, they also develop greater tenacity and learn to overcome adversity as they improve conditioning and strength. Drills are designed to stimulate faster reactions, better accuracy, and harder hitting. Campers play singles and doubles games, learning about strategy and improving mental stamina and physical agility.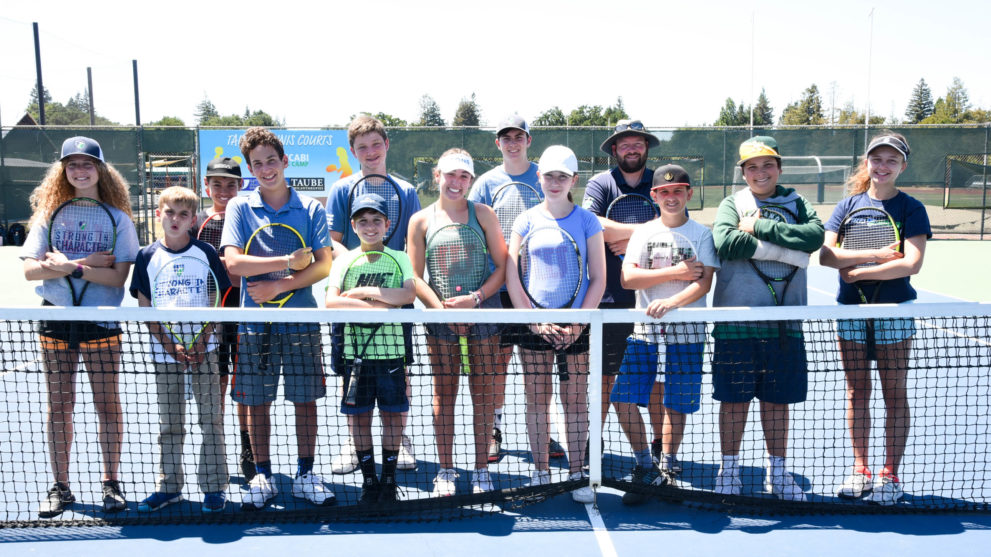 Core tennis training includes:
Stroke development
Serves and returns
Defenses and attacks
Footwork and transitions
Singles and doubles strategy
Post-match recovery
Power, speed, stability, strength
Mental stamina and physical agility
Volleyball
Campers will refine their elemental volleyball skills such as setting, passing, and hitting to gain a well-rounded understanding of the sport. Regardless of their level or position on the court, campers will build on their volleyball IQ and decision-making based on the game scenario. Engaging in match play will provide campers the opportunity to improve their skills in a given position, where they will be introduced to different attacking strategies such as tipping, hitting, and roll shots. Campers will also develop skills for different types of defense, including overhead digging, and learn the difference between digging line versus digging cross-court from a hitter.
Core volleyball training includes:
Serve-receive passing and necessary angles
Learning different types of serves: stand-float, jump-flat, jump top-spin
Serving different areas of the court as well as short serves
Adjusting your approach based on the set
Review offensive decision making and hitting different areas of the court
Introduce and review footwork for transitioning, blocking, and approaching
Introduction to the skills-set required to compete at a beach volleyball level
Conditioning and agility that focuses on quad, hamstring, and ab strength