Welcome Back, Volleyball Head Coach Emily Horner!
We're thrilled to announce Coach Emily's return for her 5th season as the leader of our volleyball program, the fastest growing core sport in our community.
California Volleyball Native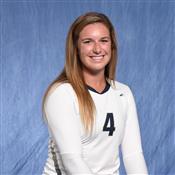 Emily was born in Mission Viejo, CA which is about six hours south of camp. She started playing volleyball in seventh grade and grew up playing on the beach and indoor. She made the decision to take her collegiate career as an indoor volleyball player at the University of Pittsburgh. Emily is currently continuing her career playing beach volleyball at UC Davis while she pursues a Master's Degree in Secondary Education.
Club, High School & College Volleyball
Emily graduated from the University of Pittsburgh where she was a member of the NCAA Division 1 Volleyball Team. Her junior and senior year, the team captured ACC Championship as well as qualifying for the NCAA tournament, making it to the second round both years. The team ranked top 10 in Division 1 volleyball for 3 weeks for the first time in program history. Prior to college, she competed at varsity for her high school for three years and set records in both hitting and service aces in a single year. She also played travel for T-street Volleyball club, where she helped her team win 18 Open at Nationals, proving to be the top team in the nation.
Volleyball Coaching Experience
Emily began her coaching career directly after graduating high school where she assisted in coaching the high school team at her Alma Mater that summer. After that, the summer of her college years were spent coaching at the Dan Fisher (University of Pittsburgh) Volleyball camps with potential recruits for the University of Pittsburgh as well as players from ages 8-17. She continues coaching currently by giving private lessons to those learning and continue to grow in their volleyball skill. Although she wants to pursue education, she knows that coaching will be present in her future one way or another!
Multi-Sport & Multi-dimensional
Off the court, Emily loves being active by running, hiking, or just involving herself in other sports (despite her skill level). She also loves listening to music and attending concerts. When she's not hanging out with friends, she usually is supporting her local sports teams (whether it to be high-school, college, or the fan base of the area).
This Summer at Camp
Emily is looking forward to teaching volleyball basics & advanced skills. She's also looking forward to seeing players grow on and off the court. Her main focus points as a coach are that her players give full effort, value communication, and most importantly bring energy to the court. If her players follow these with their best foot forward, they will prove to be successful and grow in the sport. She also loves that volleyball is a team sport and looks forward to the group of girls becoming cohesive and learning the importance of playing cooperatively with each other as well as playing for each other.